Sea Cliff House Directions & Contact Information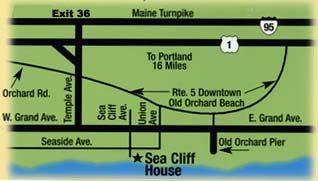 For reservations and information, please contact us:
Reservations: 1-800-326-4589 (9 am to 9 pm)
Sea Cliff House • 2 Sea Cliff Avenue
Old Orchard Beach, Maine 04064
Phone: 207-934-4874 • Fax: 207-934-1445
Email: info@seacliffhouse.com
Open all year – the Pelletier Family, your hosts
Only 2 hours from Boston – 5 hours from Montreal and Quebec City. 5-1/2 hours from NYC.
We are easy to reach from all areas north and south, and in the heart of Old Orchard Beach, Maine. Use the map below for directions and distance from your location.
DIRECTIONS:
From the South:
Take I-95 North into Maine (this will become the Maine Turnpike) Take Exit 36 – Saco, Old Orchard Beach Exit. Proceed through the Tollbooth and continue on 1-195. This little stretch of highway will turn into a residential area. You will come up on a fork (mini rotary) in the road.
You want to continue to go straight (or bear to your right) onto Temple Ave (keeping the 7/11 Gas Station on your left). Stay on Temple Ave for 1.2 miles and you will come to a four way stop in the center of Ocean Park. Take a left here onto Rt 9 (which is also West Grand Ave.) Go .5 of a mile on West Grand Ave and go right onto Sea Cliff Ave.
From the North:
Take Exit 36 off the Maine Turnpike (I-95) and follow directions from above.
From Portland Maine (PWM) Airport:
Take a left on to Congress Street follow straight through next light to Johnson Street and head towards the
Maine Mall Road.Now stay on this road and it changes to the Payne Road and intersects with Route 1.
Take a right onto Route 1. After about 3 miles just after you pass the Cascade Restaurant (on your left) you will take a left at the street light onto Route 98. At the three way stop in the center of town take a left down the hill toward the Pier. Just prior to the Pier take a right at Palace Playland (keeping the ocean to your left). After the second stoplight we are the second street on the left. Take a left on Sea Cliff Ave and we are on your left, on the beach.