Ocean Park Maine – Old Orchard Beach's Quieter Side
When most people think of Old Orchard Beach they think about the festive atmosphere surrounding the Pier in the heart of Old Orchard Beach. Few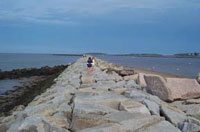 realize that a mere .7 miles south of the Pier is a quaint seaside community – directly on the beach. A place to stay called "The Sea Cliff House."
And less than 1/2 mile south of The Sea Cliff House is Ocean Park, a classic seaside vacation village with old world charm. The original soda fountain in the heart of the town still serves homemade ice cream as it did when it opened over 100 years ago.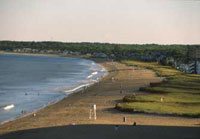 Ocean Park welcomes the public to enjoy movies and concerts, the seasonal Library, Recreation Hall, Clay Tennis Courts and Shuffleboard Courts. All of Ocean Park is a State of Maine Game Preserve with several walking trails through towering cathedral pines.
Just down the road a piece from Ocean Park is Ferry Beach State Park with its scenic board walk and remote beach. And just beyond that, at the head of the Saco River, sits Camp Ellis. Camp Ellis is a classic Maine fishing Village with fine shops and restaurants. The half-mile long breakwater is an excellent place to fish for stripers. Deep-sea fishing, whale watches and river cruises depart daily from the Camp Ellis docks.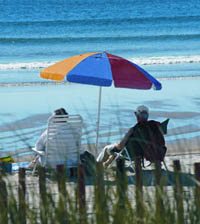 Just 3 miles north of the Pier is the quiet vacation community of Pine Point. Pine Point, with its gift shops, restaurants and lobster pounds, sits at the head of the Scarborough River. This area is also home of the Scarborough Marsh Nature preserve, the largest Saltwater Marsh in Maine. Here one can experience a guided canoe trip on the Scarborough River and sneak up on a host of cranes and birds.
Enjoy an Old Orchard Beach Vacation at the Sea Cliff House Motel, a vacation on the quieter side.

Ocean Park Maine Hotels Vacation Rental Motels