Two-Room Kitchenettes – Our Most Popular
The kitchenette is the best value at the Sea Cliff House Motel. Although you will not have an ocean view from a kitchenette, you are only steps away from our beautiful beach.
Example Of First Floor Kitchenette With Queen Bed • Click Images For Larger View • Return To All Rooms and Rates Page
We offer 1st and 2nd floor units and our guests share the deck areas. There are comfortable chairs on the deck area to catch a few rays of sunshine or enjoy your morning coffee.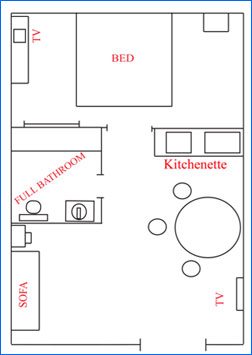 The living/kitchen areas and bathrooms have ceramic tile and the bedrooms are carpeted. There is a table in the kitchenette area with 4 chairs.
Each 2 room kitchenette has a bedroom with either a king or queen bed (depending on availability) and the living area offers a futon that opens up into a full sized mattress. Our kitchenettes will comfortably accommodate 4-5 guests. If required, we can furnish an air mattress.
WiFi and nationwide calling are both complimentary.
Fully appointed 2-Room Kitchenette Suites include:main building
• Towels, Dishes , cups, plates, utensils (service for 4)
• Pots & Pans • Coffee maker • Microwave • Two-burner stove top • Refrigerator • Hair dryer
• Television in bedroom & living area

Let the sounds of the ocean waves soothe and relax you, during your special vacation here at the Sea Cliff Motel. We hope your stay in this unique suite will be as memorable, relaxing and enjoyable to you, as it was for us. We want this to be your "beach house" for the week and your "home away from home."
Click here for Kitchenette Rates.
Old Orchard Beach Maine Kitchenette Motel Rooms