Old Orchard Beach Maine Oceanfront Motel Amenities
Sea Cliff House Motel guests find our serene section of beach to be a picturesque wide stretch of sand that goes for miles in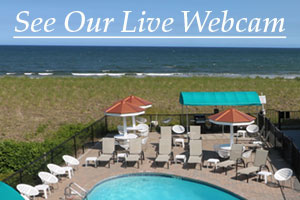 either direction, offering an ideal Old Orchard Beach vacation on the Maine Coast.
We are located near the Ocean Park section of Old Orchard Beach. Read more about Ocean Park here.
Our beachfront pool area is sunny and inviting, with umbrella tables, lounge chairs, barbecue grills and a hot tub. The pool overlooks an area of sand dunes and the ocean just beyond.Here you'll enjoy swimming and relaxation by day and the tranquil sounds of the surf by night.
 Click images below for larger views and descriptions
We have a large (seasonal) hot tub – perfect after a swim in the ocean or pool.
Hot Tub Spa Notice: Due to raised safety concerns regarding children and babies in water above 98 degrees Fahrenheit … we have implemented a strict policy permitting only adults to enter the hot tub spa. In addition, based upon overall guest preference, this policy will enhance the spa experience for adults, while those under the age of 18 enjoy the comfort and convenience of our heated swimming pool.
 
Old Orchard Beach Maine Oceanfront Motel Amenities